Bazooka Boy Online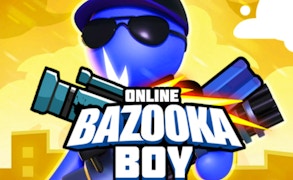 Bazooka Boy Online
Injecting something fresh and exhilarating into the sphere of shooting games, comes the eye-popping world of Bazooka Boy Online. This riveting game ingeniously blends elements of gun games, battle games, and sniper games with a dash of clicker games mechanics, forming an intoxicating cocktail for all shooting genre connoisseurs.
The game tasks you with the objective to annihilate everything that stands before, presenting an arsenal of weapons that are as awe-inspiring as they are deadly. Rich in detail and distinct in their functionality, these weapons are not just for show - they demand you to harness your inner tactician, adding a compelling layer of strategic depth commonly associated with acclaimed Skill Games.
No building is safe in Bazooka Boy Online, each explosive round you fire can send enemies flying, their bases crumbling into debris. It's this unprecedented level of destruction, paired with the ragdoll physics of your foes that makes every trigger pull an exercise in satisfying chaos.
The grandeur doesn't stop at its impressive gameplay. The game is brimming with a plethora of dynamic levels that add dimensions to its replayability factor. Each level is meticulously crafted to provide new challenges and keep you craving for more.
In conclusion, Bazooka Boy Online is a delightfully destructive addition to the realm of shooting games - a cocktail of explosives and strategy sure to cater to anyone with a penchant for action-packaged gameplay. If the adrenaline rush from blowing up your enemies' bases or sending them flying through the stratosphere doesn't hook you, its strategy-demanding design and immersive levels surely will.
Bazooka Boy Online is not just another title in the crowded world of shooting games – it's a testament to innovation and thrill culminating into an unforgettable gaming experience.
What are the best online games?