Battle of Tanks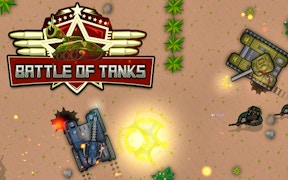 Battle of Tanks
Immerse yourself in the havoc of war with Battle of Tanks, a riveting entry among real-time strategy battle games. Unleashing the adrenaline rush of true combat, this game will leave you strategically deploying your armored forces across the battlefield, grappling for victory with every move.
The Battlefield is transformed into an intense theater of war where every decision matters. Each battle is a story; your tanks, the brave heroes, and their mission – to raze the enemy base to the ground. The game demands that you deploy a minimum of three tanks to launch an attack on the opposing base, introducing an interesting tactical layer to your game plan.
The charm of Battle of Tanks lies in its balancing act between strategy and action. Perfectly timed deployments can turn the tide of a battle and bring triumph within reach. Thus, winning is not merely about overpowering your enemies but about outsmarting them, which makes it a standout among other tank games. Its strategic depth combined with visceral action guarantees nail-biting gameplay that will keep you on your toes.
Ultimately, Battle of Tanks will test your mettle as a commander and strategist in a war-torn world. Selecting the right tanks at the appropriate time is not just a way—it's THE way to win these electrifying battles. Whether you're looking for adrenaline-pumping action or intense war-themed strategizing, Battle of Tanks emerges as an ideal choice for any fan of battle games, providing endless hours of thrilling combat experience.
This fantastic game takes tank games and war games to new levels with its compelling gameplay mechanics and high stakes warfare action. Prepare yourself for battle. Good luck!
What are the best online games?