Battle For Kingdom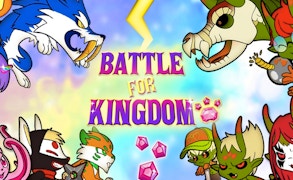 Battle For Kingdom
Dive headfirst into the intricate labyrinth of battle games with an epic saga that will have you clamoring for more: Battle For Kingdom. This strategy game pushes the limits of the genre, delivering a unique experience that expertly blends elements of war games, monster games, and dragon games. Test your mettle against all manner of creatures–from muddy demons to toxic monsters and far more sinister enemies.
The first thing you'll note about this game is its stunning design. The immersive world draws you in from the very beginning, making each victory that much sweeter. Yet it's not just a pretty face; Battle For Kingdom offers a rich, dynamic environment that elevates this title above your run-of-the-mill war games.
As any seasoned veteran of strategy games knows, it's not about how many troops you have but how you use them. Here, Battle For Kingdom shines with a myriad of different soldiers at your command. Whether you favor brute force or finesse, there's a unit that caters to your style.
Yet the real draw is undoubtedly the battles themselves. Few monster games achieve such a compelling blend of strategy and action; each encounter requires careful thought and quick reflexes. Combined with the ever-present threat of dragons and other formidable foes, these fights are sure to keep even the most hardened gamer on their toes.
Battle For Kingdom truly is a jewel in the ocean of strategy games. Offering an in-depth combat system, diverse unit roster, and an intriguing narrative richly woven with elements from some of the best battle games, this title is one no fan of war or dragon games should miss out on.
What are the best online games?