Bank Cash Transit 3D Security Van Simulator 2018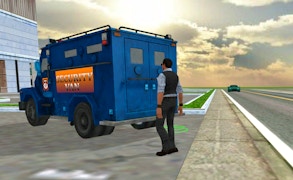 Bank Cash Transit 3D Security Van Simulator 2018
Set your seatbelts for a thrilling journey into the world of banking simulation with Bank Cash Transit 3D: Security Van Simulator 2018. This enthralling addition to money games, is not your run-of-the-mill driving, parking, or racing game. It's a unique blend of simulator games, sprinkled with elements of strategy and heightened adrenaline.
The game allows you to assume the role of a bank teller, tasked with the crucial responsibility of transporting cash from the main bank to various ATMs. But don't be fooled by the seemingly simple premise; there's more than meets the eye. From navigating through tricky terrains in your cash-laden truck to outsmarting potential robbers lurking in every corner, this game offers not just driving but predicament in every mile.
For all enthusiasts of police games, this game fine-tunes your skills by placing you at the helm of secure cash transit operations, at times even requiring you to enter a police van to ensure maximum security. The task is not just about speed; it's about precision, strategy, and sometimes, pure will.
In terms of graphics and controls, Bank Cash Transit 3D: Security Van Simulator 2018 stands out amongst other truck games. Its realistic visuals combined with seamless controls provide an immersive gaming experience that's hard to parallel.
In conclusion, Bank Cash Transit 3D: Security Van Simulator 2018 offers an exhilarating blend of action and strategy that will keep you on your toes from start to finish. Its high degree of security challenges adds spice to the common formula seen in other driving games, making its experience uniquely engaging. So buckle up for an adventure that promises big thrills and bigger bucks!
What are the best online games?