Bank Atm Simulator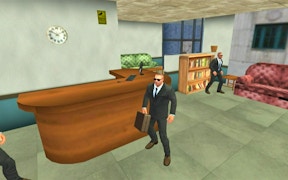 Bank Atm Simulator
Picture the thrill of action games meeting the strategic intricacies of simulator games. Now, add a dash of high-octane driving games, then spice it up with elements of intriguing money games. That's exactly what the Bank ATM Simulator offers to gaming enthusiasts. This game serves a platter of adrenaline-pumping adventure, all neatly wrapped in one package.
A tour de force in the world of action-simulator crossovers, the Bank ATM Simulator game offers players an engaging city simulation where they can enjoy driving around in various cars. Think Grand Theft Auto crossed with Monopoly and you start to get an idea of this game's unique appeal.
The genius of Bank ATM Simulator lies in its seamless combination of running games, kindling a sense of urgency and thrill, with the strategic depth provided by being a money game. As you delve deeper into this unique world, you get to engage in intense battle games, testing your strategy and reflexes against challenging opponents.
The multiple levels ensure that boredom is a foreign concept in this domain. Each level presents new challenges and opportunities, keeping players repeatedly coming back for more. The option to drive cars adds to the realistic simulation environment, making Bank ATM Simulator one-of-a-kind among other car games.
In conclusion, the Bank ATM Simulator challenges the norms by marrying elements from different gaming genres into one masterpiece. Whether you're an action gamer thirsting for some running and driving thrill, or a strategy gamer seeking an exciting money venture or an engrossing battle experience – this game will leave no gamer unsatisfied.
What are the best online games?