AXE Throw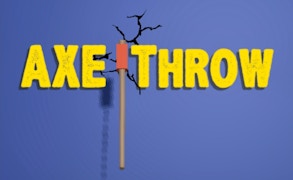 AXE Throw
Welcome to the thrilling world of AXE Throw, a game that redefines the action genre by blending elements of archery games and skill games together, creating an exhilarating roller coaster ride of fun and strategy. If you've ever fancied yourself as a sharp-eyed marksman, ready to bring down the bullseye with a well-placed projectile, then this is your moment.
AXE Throw isn't just about tossing weaponry at targets - it's about mastering the art, perfecting your aim and rising above the competition. This power-packed action game rewards precision and patience, mimicking the very essence of traditional archery games. But don't let that fool you – it's as modern as they get with stunning graphics and gripping gameplay.
The game mechanics are solid, yet simple. You throw an axe and aim to hit the target. Sounds easy? Think again! Each level presents new challenges, keeping you on your toes. The trajectory of your throw, the speed at which you hurl your axe - every minor detail counts here in this extraordinary blend of action and skill games.
What sets AXE Throw apart from regular archery games is its unique twist. Instead of a bow and arrow, you have an axe. This tiny adjustment not only makes gameplay more exciting but also adds variety to the category of skill games.
The interface is user-friendly; those familiar with action or archery games will find it fairly intuitive. Whether you are a novice stepping into the adrenaline-pumping world of action games or a seasoned player well-versed in skill games, AXE Throw promises an immersive experience that will keep you hooked on for hours.
In conclusion, if you're on a quest for action-packed archery games or highly entertaining skill games that challenge both your reflexes and strategy, then don't look any further; AXE Throw indeed is the ultimate game for you!
What are the best online games?
TAGS