Axe Master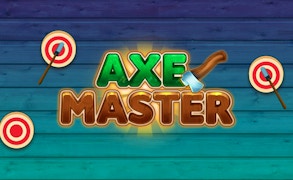 Axe Master
Step into the world of exhilarating action and precision with Axe Master, an enthralling addition to the genre of Action and a perfect fit for admirers of archery games and skill games. This burgeoning sport of axe throwing has been beautifully encapsulated into a gripping game that keeps you on your toes, challenging your accuracy and rewarding your dexterity.
The premise of Axe Master is simple yet captivating. Armed with a quiver full of mini axes or hatchets, you stand before a rotating array of targets. Your mission? To tap accurately, hurling your axe at the moving targets while avoiding dangerous skulls. The experience is enhanced by the bullseye bonus - hit it to score maximum points. But remember, never run out of axes!
Endowing gamers with unlimited gameplay, Axe Master promises continual engagement and entertainment. This action-packed game perfectly balances itself between being easy enough to grasp yet hard enough to master, ensuring both novices and seasoned gamers find their space here.
The real test comes in face of the intimidating boss levels, designed for those seeking an elevated challenge. Herein lies the beauty - throw rapidly and accurately to rack up combo points that push your score skywards. It's not just about winning; it's about winning with panache!
Axe Master wraps itself in an appealing theme that resonates with arcade lovers. Its visual appeal enhances gameplay and keeps you engrossed in this world woven around hatchets and targets.
In conclusion, Axe Master is a fantastic integration of action, skill games and archery games providing endless hours of entertainment. Experience the thrill, accept the challenge and get ready to be bewitched by Axe Master!
What are the best online games?
Tags