Atari Centipede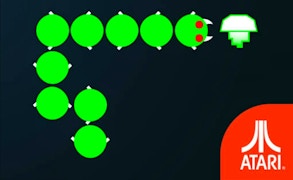 Atari Centipede
Take a trip down memory lane with the timeless classic, Atari Centipede. This iconic masterpiece of arcade genius is one you wouldn't want to miss. Catering to retro game enthusiasts and seasoned gamers alike, Atari Centipede brings back the exhilarating thrill of old-school gaming.
This game is a fine blend of snake games, worm games, and an essence of monster games. Imagine being in a neon-lit arcade room, joystick clutched tight, as you feverishly work your bug blaster to destroy the onslaught of bugs coming your way.
Your main adversaries include centipedes, spiders, scorpions, and fleas. Your weapon? A bug blaster, firing petite yet lethal darts. The centipede - your prime enemy - consists of 10 to 12 segmented body parts, each becoming a mushroom when hit. Much like in traditional snake games, destroying the head is the key to bringing down this formidable foe.
You are transported into a survival world where every move is crucial. The intensity builds as each piece of the centipede continues its descent towards you, only adding to the frenzy unique to these classic survival games.
Your quest for survival isn't merely about eliminating these creepy crawlers but cleverly maneuvering around them too. Like any classic worm game, it's about strategy, speed and an eye for opportunities.
In summary, Atari Centipede combines elements from all genres making it an absolute treat for lovers of snake games, worm games and monster games alike. With its incorporation of intense survival gameplay reminiscent of top-tier survival games and its nostalgic retro charm makes it a must-play arcade game.
What are the best online games?