Army Sniper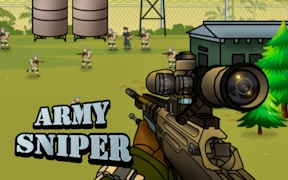 Army Sniper
Step into the boots of an elite marksman with the thrilling Army Sniper, a game that grabs the essence of gun games, war games, sniper games, and battle games, and melds them into an adrenaline-packed experience. Crafted brilliantly with a mix of strategy and action, Army Sniper stands as an unmissable treat for not just sniper enthusiasts, but for anyone fond of strategic warfare.
With jaw-dropping graphics and mind-boggling gameplay, Army Sniper brings to the fore, the thrill of being at war in a 2D landscape. Despite its seemingly simple dimensionality, this game touches new heights when it comes to delivering a vibrant and detailed war environment.
The gameplay of Army Sniper is designed skilfully to challenge your quick reflex actions as well as strategic planning abilities. Take on the mantle of a deadly sniper, ready to take down hostile forces. Your mission - terminate enemies using only your trusted sniper rifle. The immersive environment demands your full attention and precision aiming. You'll feel every pulse-pounding moment as you peer through your scope towards an unknowing opponent.
An intriguing feature of this game is its meticulously crafted levels; each mission adds layers to your sniper adventure and further entwines you in this thrilling warfare experience. The vivid visualization combined with high-paced action makes this game an absolute standout amongst other gun games.
Army Sniper's intricate design ensures it doesn't just feed into your gaming thrill but also keeps you hooked with its immersive narrative and stimulating scenarios. It demands both skill and bravado but rewards you with an unmatched sense of accomplishment. Up for a challenge? Dive into the battlefield now with Army Sniper for a heart-stopping sniper experience.
If shooting is your genre, then Army Sniper will prove to be a stunning kickstart to your exhilarating journey featuring cutting-edge gunplay mechanics amidst intense battle chaos. No matter if you're a seasoned shooter or a rookie soldier – Army Sniper offers everyone their time under the war-torn sky! So gear up and let those bullets fly!
What are the best online games?