Archery Blast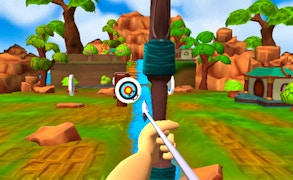 Archery Blast
step into the intense world of Archery Blast, one of the most compelling archery games available right now. If you've got a keen eye and a steady hand, this game is set to test your abilities like never before.
The precision, the thrill, and the sheer artistry of the timeless craft are all on display in this skill-based action-packed game. You'll be drawn into its captivating universe where your archery skills will determine your survival.
The title, Archery Blast, ignites curiosity right off the bat. A unique blend of action and skill demands from its players a level of concentration that promises to keep one on their toes. The adage "Practice makes perfect" is brought to life here as you'll quickly find out that landing the perfect shot requires not just precision but also, strategy.
Embrace your inner archer as you embark on an adventure through intense levels teeming with challenges. Each level, meticulously designed, pushes your boundaries and keeps you on edge with its unpredictable twists and turns.
But Archery Blast is more than just an archery game; it's a ticket to a world where every arrow counts. Your accuracy, timing, and decision-making skills will be put to the ultimate test. As each advanced level unfurls, you'll realize that every shot in this game isn't just about hitting the target—it's about making the best shot at the right time.
Beyond just being one of many skill games, Archery Blast stands out by offering an adventure infused with action elements that amplifies every aspect of gameplay. Each masterfully crafted setting and round presents a fresh challenge that keeps players engaged whilst constantly pushing their limits.
Archery Blast is an unmissable experience for gamers looking for something more than ordinary shooting games. This captivating archery game sets a new standard for skill-based gaming by providing hours of engaging gameplay, packed with relentless action and endless entertainment.
What are the best online games?
TAGS