Archerry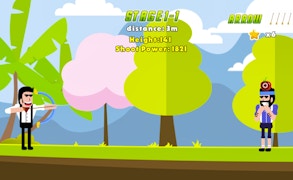 Archerry
Against the backdrop of a saturated market, Archerry — a standout title within the realm of action-oriented archery games — invites gamers to showcase their virtual arrow-slinging skills in thrilling new ways.
Leveraging the perennial allure of risk and reward, Archerry spins a deceptively straightforward premise into captivating gaming gold: Prove your archery prowess by striking a cherry crowning your companion's head. The suspense is enough to get even the most seasoned gamers heart racing.
The game engineers have crafted an exhilarating experience that tests not only your hand-eye coordination but also your courage and strategic acumen. Each level requires precise calculation and unwavering focus as any misjudgement can result in an unfortunate accident for your digital partner. Such design elements foster a palpable tension which is seldom found in other archery games.
The high-stakes premise is supported by exceptional mechanics that bolster both realism and entertainment value. The arrow physics lend a credible feel, coupled with rewarding progression systems that turn proficient archery into an engaging pursuit rather than a monotonous chore.
Furthermore, Archerry delights with its clean, minimalist aesthetic which ensures players can concentrate on the target without distractions. While it may lack the complex detailing or 3D graphics of other titles, this stripped-back approach works to Archerry's advantage, reinforcing its core selling point: pure, adrenaline-pumping action.
In conclusion, Archerry is not just another face in the crowd of archery games. Its blend of high-stakes gameplay, solid mechanics and sleek design positions it as an arresting experience for action game aficionados. So if you're seeking an immersive challenge that hones your precision and decision-making skills – enter the world of Archerry; it's time you took aim at victory!
What are the best online games?
Tags