Angry Shark Miami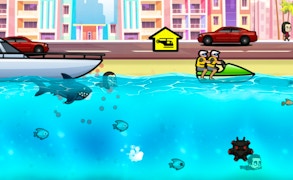 Angry Shark Miami
Submerge yourself in the adrenaline-soaked world of Angry Shark Miami, an action-packed thrillfest where players assume the ferocious persona of a ravenous shark prowling the sun-kissed waters of Miami. Thanks to kiz10.com, this extravaganza among sharks games and animal games is available to play for free, tantalizing gamers with its exciting gameplay, immersive graphics, and addictive narrative.
Dive straight into the action where survival is everything and reign as the apex predator in this aquatic battlefield. The unparalleled thrill you get when you control these underwater beasts terrorizing the oceanic playground is unmatched. Fulfilling the shark's insatiable hunger by devouring everything in its path adds a savage twist to conventional gaming tactics. With ships to destroy, people to devour, and planes to hunt, every bite releases a surge of primal satisfaction that will keep you coming back for more.
The game excels in maintaining a high-octane pace throughout your blood-soaked journey. The challenge escalates as you need to survive as long as possible while continuously replenishing your shark's health by feeding on humans. Unlock other ferocious sharks as you rack up your score, adding another layer of depth and excitement to your gameplay.
Fulfill challenging missions and compete for high scores in this relentless feeding frenzy. Whether it's your first time dipping your toes into shark games or if you're an avid fan of thrilling animal games, Angry Shark Miami holds its own with its uncompromising approach to action gaming combined with originality and innovation. Time to take a deep dive into a world where fear rules and only the most ruthless survive!
What are the best online games?
Tags