Angry Rex Online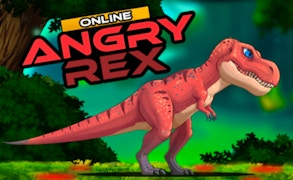 Angry Rex Online
Deep dive into an unforgettable prehistoric journey with Angry Rex Online, an action-packed game that skillfully blends dinosaur, running, battle, and escape games tags in one breathtaking experience. This side-scrolling action extravaganza is not your run-of-the-mill dinosaur game. It's an adrenaline-inducing simulation where destruction and survival go hand-in-hand.
Angry Rex Online transports you back to the Jurassic era with stunning visuals and immersive gameplay. You embody the fierce Tyrannosaurus Rex rampaging through diverse landscapes, leaving a blazing trail of chaos. If the idea of being a colossal predator on a consumption spree excites you, this game has got you covered.
Every move in this game is geared towards survival. The engaging escape games element of Angry Rex challenges your strategizing abilities as you skillfully evade traps while navigating your way through myriad levels. It's an electrifying mix of thrill and tension as you strive to unleash the beast within without falling victim to hidden snags.
The battle games aspect brings out your combative edge. From annihilating enemies to pulverizing trucks - every conquest intensifies your reign of terror. The balance between power and agility is key here - too aggressive, and you may fall into a trap; too cautious and your prey may escape.
This fast-paced entry in the running games arena manages to deliver a relentless stream of excitement while engaging you in an addictive bloodbath that will have you hooked for hours. Angry Rex Online encapsulates the primeval fury of dinosaur games with its raw energy and thrilling action sequences.
In essence, if it's explosive action, breathtaking escapes, and uncontrolled rampages that you crave in your gaming sessions, then Angry Rex Online is just the adrenaline shot that you need!
What are the best online games?