Angry Bull Racing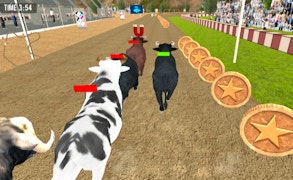 Angry Bull Racing
Embark on a thrilling journey into the world of Action Games with Angry Bull Racing, a spectacular fusion of animal games and running games. This adrenalin-pumping game rides high on skill mastery, making it an exciting addition to the Skill Games genre as well. Let me take you on a wild ride through this engaging game.
In the game, you don't just run; you dash, you hurtle with the fury of a bull, bringing an exhilarating twist to typical running games. Angry Bull Racing offers multiple bull skins, allowing you to customize your character and add a personal touch to your gaming experience.
The gameplay is nothing short of fun. It keeps you hooked, with pulsating excitement coursing through your veins as your fingers dance across the controls. The running isn't aimless; it's a battle game. Each sprint is a combat for supremacy over your rivals in this action-packed ride.
You're not just playing an animal; you're embodying the ferocity of an indomitable bull. It's not often that animal games capture the essence of the creature so brilliantly, but Angry Bull Racing stands out in this regard.
This fast-paced journey requires swift reflexes and tactical thinking to triumph in every race. Therefore, making it brilliantly amalgamate elements of conventional Skill Games. Whether you're racing against time or opponents, victory depends on how skillfully you can command the raging bull.
To sum up, Angry Bull Racing perfectly marries elements from different genres - action, running, animal racing and skill-based gaming - into an electrifying experience that keeps you coming back for more. So brace yourselves for a fierce run as this bull won't take no for an answer!
What are the best online games?