Among U: Red Imposter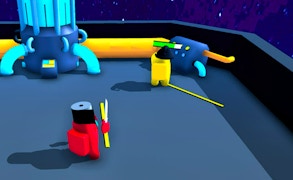 Among U: Red Imposter
Dive into the dark and ruthless world of Among U: Red Imposter, a chilling addition to the action-packed gaming industry. Sculpted with layers of deception and survival, it stands as a thrilling encounter amidst the mainstream sword games, survival games, and escape games.
The game festers in mystery, daring you to question, "Did I ever kill anyone?" Pushing boundaries of traditional gaming narrative, it thrives on manipulating your conscience. The creepily charismatic Red Imposter forces you to juggle between your survival instincts and murderous tendencies while always lurking in the shadows.
Nail-biting suspense dominates Among U: Red Imposter, as you walk on the knife's edge that delicately balances accusation and innocence. The game doesn't merely stop at being a test of strategic skills; instead, it plunges deep into your psychological depths urging you to ask yourselves, "Did I see me kill someone?"
Among U: Red Imposter embodies an engaging survival game, transforming players into paranoid beings in a deadly match of seeing without being seen. Defend yourself while launching silent attacks to prevent your deeds from being spotted. Every minute is surreal in its intense portrayal of predator-prey dynamics, making it an irresistible attraction for lovers of escape games.
The essence of this captivating title lies in its promise - "Kill them before they see!". It truly captures the essence of what makes action-packed sword games so gripping and immersive. Among U: Red Imposter is not just a game; it's an adrenaline-fueled adventure where danger is always Among U!
What are the best online games?