Airport Manager Games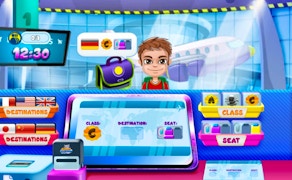 Airport Manager Games
Prepare your runways and fasten your seatbelts as you embark on an aviation adventure with the inventive Airport Manager Games. This enthralling amalgamation of simulator games, management games, airplane games, and tycoon games will have you commanding the skies in no time.
Rising above traditional airplane games, Airport Manager Games boldly leverages elements of simulation and strategy. Whether you are a veteran tycoon or an aspiring mogul, this game's intricate airport operations will engage your strategic mind. It's not just about the thrill of take-off and landing, it's about ingeniously managing resources, ensuring passenger satisfaction, and expanding your airline to become a global powerhouse.
The heart of this game lies in its management mechanics borrowed from some of the most successful management games. You'll delve into intricate details like scheduling flights, hiring staff, and maintaining aircraft to ensure smooth operations. And with each decision impacting your bottom line, it's high stakes at high altitude.
If you have ever dreamt of piloting an airplane in any other airplane games, Airport Manager Games takes it higher by focusing on handling operations behind the scenes. The challenge elevates further as it integrates elements from classic tycoon games. The thrill of becoming a successful airport tycoon lies not just in generating profits but also in designing efficient layouts to cater to growing demands.
In conclusion, Airport Manager Games is a grand blend that brings together the best aspects from simulator games, management games, airplane games, and tycoon games. It's more than just a game; it's a journey through the thrilling world of aviation management that promises sky-high rewards for those bold enough to take control. So strap yourself in for an adventurous ride that will test your managerial mettle on this unique flight towards success!
What are the best online games?