Airplane Survival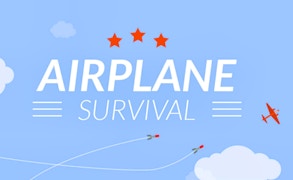 Airplane Survival
Immerse yourself in the thrilling world of Airplane Survival, one of the best airplane games out there where skill, strategy, and survival are the name of the game. Playing around with the power of flight has never been so enticing and addictive.
Riding high in the splendid sky, this game offers a beautiful marriage of flying games and survival games, which sets it apart from other run-of-the-mill titles. It's not only about controlling an airplane but also steering clear from enemy missiles that are relentlessly pursuing you, adding a whole new layer of excitement to your gaming experience.
In Airplane Survival, your ultimate aim is to outsmart homing enemy missiles and survive for as long as you can. But that's not it! This game also offers diverse power-ups such as boost, ring protection, and nuclear damage which enhance your chances of survival, adding depth, variety and a distinct feel to this flying game.
The uniquely designed Fever Mode is another impressive feature that gives the gameplay a fresh twist. The better you play, the higher your chances are to unlock cool aircraft using your high scores making every instance of playing an opportunity for progress.
In addition to its innovative gameplay mechanics, Airplane Survival boasts great music and ambience which elevates the thrill even higher. Its compelling achievements offer an additional layer of challenge that will keep both casual gamers and hardcore plane enthusiasts hooked for hours on end.
To sum up, if you're looking for a great blend between flying games and survival games with a touch of arcade action, Airplane Survival is definitely worth taking for a spin!
What are the best online games?