Ages: Build and Craft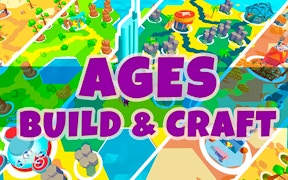 Ages: Build and Craft
Enter the prehistoric times as you step foot in the enchanting world of Ages: Build and Craft, a thrilling mix of strategy and action. This addictive idle arcade game transports you through time, tasking you with the challenge of taking a primitive village from the Stone Age right up to the present day.
Labelled under exciting categories such as building games, city building games, management games, farm games, and even making its mark as one of the fascinating simulator games, Ages: Build and Craft is a delightful fusion of historical exploration and strategy.
Your quest begins in a humble village where your main task - to bring prosperity. But achieving prosperity requires strategy, planning, and constant decision-making, summing up to an immersive gameplay experience. Each era, from Stone Age to the Modern Age, unfolds its unique set of resources and buildings. Figuring out how to utilize these resources effectively becomes crucial for progression.
New territories furnish additional resources and space for expansion, infusing elements from classic city-building games. With each territory expansion, new building tasks emerge, adding layers of complexity that will have you hooked. Every successful task completion edges you closer to transforming your village into a bustling metropolis - a feature that fans of management games will truly appreciate.
Ages: Build and Craft manages to keep the grind exciting by offering an array of challenges that require effective resource management. These features breathe life into this idle arcade game, making it much more than just another entry in the realm of simulator games.
In conclusion, Ages: Build and Craft successfully blends strategy with action-packed gameplay for an immersive gaming experience. Whether you're a fan of building games, farm games, or city-building games, this game offers something for everyone and is a must-play for all strategy gaming enthusiasts.
What are the best online games?