A Pixel Adventure Vol 2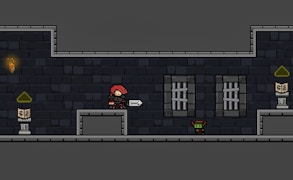 A Pixel Adventure Vol 2
Welcome, brave gaming enthusiasts, to the in-depth review of a spectacular journey filled with valor and vengeance, A Pixel Adventure Vol. 2. A fantastic fusion of RPG and Adventure genres set in an enchanting pixel world, this game effortlessly combines classic gaming elements to deliver a thrilling gameplay experience.
The compelling storyline of this treasured game lies within the perilous pits of a nightmare Castle, teeming with grotesque monsters. Our new hero, a valiant knight armed with a lethal sword, must navigate through 40 nail-biting levels filled with hair-raising obstacles and menacing monsters that lurk in every shadowy corner. The tag of 'knight games' and 'monster games' couldn't be more fitting.
Drenched in the nostalgia of pixel games of yore, A Pixel Adventure Vol. 2 offers the simplicity and allure of pixelated worlds that fans adore. But don't be fooled by its old-school vibe! This gem competes comfortably amongst modern battle games offering invigorating combat sequences that require strategic thinking and quick reflexes. Tread lightly for one wrong strike from your adversary might send you spiraling back to square one!
An undeniable highlight is the glorious swordplay! The consequent action is intense and highly addictive, earning it a laudable spot amongst popular sword games. The knight and his trusty sword cut through the hordes of monsters with finesse as you command him to attack, defend and dodge to break through each level's unique challenges.
In conclusion, A Pixel Adventure Vol. 2 will delight both RPG aficionados and Adventure addicts alike. With its gripping narrative, captivating pixel art aesthetic, strategic battles against grotesque monsters, this game truly lives up to its tags – 'pixel games', 'knight games', 'monster games', 'battle games', 'sword games'. The thrill-seekers who crave riveting gameplay should not miss out on this enthralling escapade!
What are the best online games?