3D Bottle Shooter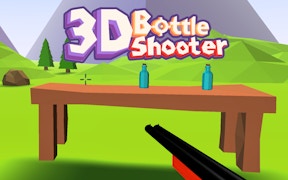 3D Bottle Shooter
Welcome to the exhilarating world of 3D Bottle Shooter, a thrilling game that beautifully blends the elements of gun games, sniper games, and skill games. This captivating game crowned with stunning 3D graphics has been sweeping players off their feet, taking the shooting genre to a whole new level.
At its core, the concept of 3D Bottle Shooter is simple: aim and shoot glass bottles. But don't be fooled by its simplicity, each level presents a unique challenge pushing gamers to hone their shooting skills. Every shattered bottle sings a symphony of destruction, resonating with your triumphant spirit amidst the serene countryside environment. The beautifully-choreographed ballet of flying shards instills a sense of accomplishment that fuels your adrenaline rush.
No two levels are alike in their complexity or design, making 3D Bottle Shooter an engaging game that requires mastering precision aiming. Like any reputable sniper games, every shot counts and could make the difference between barely scraping through or conquering with an impressive three-star rating.
In your quest for shooting perfection across more than 30 captivating levels, you will discover why this game is a standout in the crowded field of gun games. Unlike typical skill games where repetition can dull excitement, 3D Bottle Shooter keeps you on your toes with constant innovation.
In conclusion, whether you are an ardent fan of sniper-style marksman challenges or simply enjoy the addictive thrill that gun games provide, 3D Bottle Shooter is sure to provide hours of unrestricted enjoyment. Embark on this thrilling journey and experience for yourself why 3D Bottle Shooter has been hailed as one of the most addictive skill games to hit the market.
What are the best online games?