Zombify Me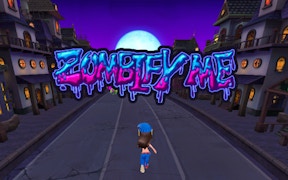 Zombify Me
Prepare yourself for a heart-thumping, adrenaline-pumping escapade with Zombify Me, a game that firmly plants its feet in the realm of running games, skill games, and for those who crave a touch of the macabre, zombie games and scary games.
Zombify Me jolts you from your comfort zone and immerses you in an apocalypse-gone-wrong scenario where the world around you has transformed into a horrifying zombie-infested wasteland. One moment you're savoring your cup of coffee, and the next, you're running for dear life from brain-craving undead!
The game designers have meticulously crafted a terrifyingly beautiful world, seeing to it that every detail - from the crumbling buildings to the far-off groans of your relentless pursuers - contributes to an atmosphere that'll leave players looking over their shoulders in real life.
The core gameplay hinges on one powerful human instinct — survival. Each frenzied dash through the hordes of zombies demands not just speed, but also strategy, sharp reflexes, and top-tier gaming skills. This game offers no room for hesitation. It's run or be zombified!
Zombify Me's captivating gameplay is sure to ensnare lovers of running games, thrill-seekers who revel in scary games, strategists who make their mark in skill games, and anyone with a soft spot for engaging narratives wrapped up in high-stake scenarios.
This game isn't just about escaping the undead; it's about experiencing an adrenaline rush so potent it'll leave your heart pounding long after you've put down your device. Unleash your survival instincts as Zombify Me takes running games to new spine-chilling heights!
What are the best online games?