Zombie Vacation 2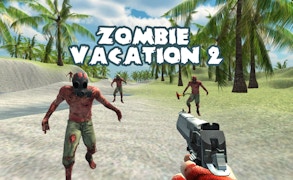 Zombie Vacation 2
Description
In the action-packed Zombie Vacation 2, you're a Special Forces soldier trapped on a tropical island overrun with ravenous zombies. Your objective is not just to survive, but also to obliterate the marauding undead hordes. With high-quality graphics and a vast arsenal of weapons to unlock, this game promises an exhilarating fight for survival.
How to play
To play Zombie Vacation 2, you'll need deft reflexes and sharp shooting skills. Use your mouse to aim and shoot, and the keyboard for movement and weapon selection. Your progress depends on your ability to survive waves of zombie attacks while constantly improving your firepower by unlocking new guns.
Tips and Tricks
Maintaining distance from zombies is key - use your sniper skills for long range kills. Don't forget to frequently change guns as per the situation, some might be more effective than others. Always be on the move to avoid being cornered by zombies.
Features
Zombie Vacation 2 comes packed with:
An impressive variety of powerful guns.
High-quality, immersive game graphics.
An array of formidable zombie enemies.
A thrilling survival shooter experience.
What are the best online games?