Zombie Mission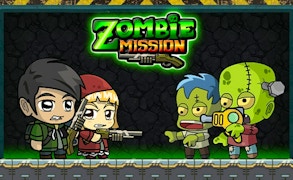 Zombie Mission
If you're a fan of zombie games, then pack your gear, as 'Zombie Mission' is bound to send you on an adrenaline-fueled ride. Part of the dynamic 2 player games genre, this title demands cooperation, strategy, and well-aimed firepower.
In a world overrun by the undead, the survival of humanity hangs precariously on the rescue of critical data disks. But beware! These disks are under heavy zombie guard. The intensity of your mission escalates with each level—making this one of those captivating gun games that keeps gamers on the edge of their seats.
'Zombie Mission' really hooks in players with its cooperative play style. It's not just about spraying bullets and hoping for the best; it's about forging a well-planned, organized strategy with your fellow gamer. Collective intelligence is your most potent weapon here.
The exhilaration doesn't end there; instead, we are thrust deeper into this dark apocalypse through ever-increasing difficulties. Each level poses fresh challenges and hardships—keeping us constantly engaged and our fingers always itching for more.
But let's not forget the armamentarium in 'Zombie Mission'. The powerful guns offered serve as your lifeline in this grim world. The sensation of blasting through hordes of zombies with high-powered firearms is viscerally satisfying in ways few games can replicate today.
In conclusion, 'Zombie Mission' stands tall amongst other zombie games. Its emphasis on strategy within a cooperative framework truly sets it apart from traditional run-and-gun zombie shooters. For those seeking a unique gaming experience that tests both their aim and wit—look no further!
What are the best online games?