Zombie Killer Game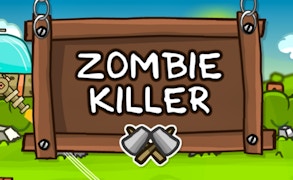 Zombie Killer Game
Prepare for a blood-pumping, heart-racing journey into the apocalypse with the formidable Zombie Killer Game. Seamlessly blending the frantic thrill of gun games, the tense strategy of war games, and the chilling menace of zombie games, Zombie Killer is set to make your adrenaline surge and your fingers twitch with excitement.
In Zombie Killer, you are plunged straight into an ominous, decaying world where survival is scarce and danger lurks in every dark corner. This game's vivid portrayal of a post-apocalyptic environment is hauntingly captivating, making it a standout amongst other standard zombie games.
Every element of this game screams action! The use of guns and arsenal in this game is deeply satisfying. Zombie Killer takes the classic gun-game formula and elevates it, featuring an array of weapons that are not only powerful but also feel genuinely enjoyable to wield. From high-caliber sniper rifles to rapid-fire machine guns, each weapon offering a different strategic approach to mow down your undead foes.
The war-game aspect comes alive in the tactical decision-making needed to progress. The battlefield is brutal, demanding precise strategy and efficient use of resources for success. You aren't just blasting zombies; you're planning attacks, holding territories, and conserving ammunition - keeping you on your toes at all times!
In summary, Zombie Killer Game brilliantly converges the thrill of gun games, the strategic depth of war games, and the heart-stopping suspense of zombie games. It's an unmissable addition to any action lover's gaming library. Hunker down, load up your guns, command your troops - it's time to become a survivor in this perilous post-apocalyptic world!
What are the best online games?