Yolo Dogecoin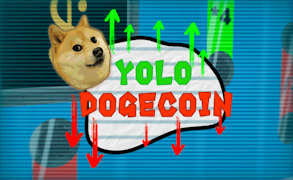 Yolo Dogecoin
Description
Experience the nail-biting thrills of the stock exchange in Yolo Dogecoin, a unique financial simulation arcade game. In this high-stakes adventure, you will engage in trading virtual cryptocurrency. Are you ready to become a millionaire or risk going bankrupt? The choice is yours!
How to play
The game is relatively simple to understand but challenging to master. Buy and sell shares of virtual Dogecoins based on real-world fluctuations in cryptocurrency prices. Your goal is to make as much profit as possible. However, remember that like in real life, you can also lose everything.
Tips and Tricks
Paying attention to market trends is the key to success in this game. Buy low and sell high to maximize profits. Be ready to make quick decisions and risks, but avoid being reckless—every action has consequences.
Features
In-depth Market Simulation: Realistic portrayal of cryptocurrency trends.
Skill-based Gameplay: Success relies on your decision-making skills.
Educational: Learn the basics of stock trading in an engaging environment.
Risk vs Reward: Experience the ups and downs of financial trading.
What are the best online games?