Yeti Adventure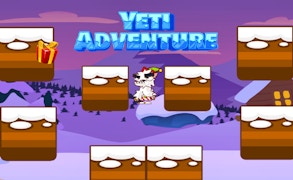 Yeti Adventure
Description
Embark on an exhilarating journey with the online game, Yeti Adventure. This thrilling platformer game invites players to traverse through a myriad of challenging levels, master various obstacles, and gather collectibles. The game boasts striking graphics and an engaging gameplay experience, ensuring each player stays enthralled throughout. With over 100 rigorous levels, Yeti Adventure offers the ideal gaming experience for thrill-seekers and challenge-lovers alike.
How to play
In Yeti Adventure, players control the Yeti using arrow keys or the touch screen for navigation across platforms. The main objective is to successfully overcome obstacles and gather collectibles spread throughout each level. Progress is made by advancing to subsequent levels, which incrementally increase in difficulty, thus providing a constantly evolving challenge.
Tips and Tricks
To excel in Yeti Adventure, it's crucial to understand the movement mechanics of the Yeti character. Keep practicing to perfect your timing skills as they are essential in conquering demanding obstacles. It's also advisable to explore each level thoroughly for hidden collectibles that might enhance your gaming experience.
Features
Vivid Graphics: A visual treat with beautifully crafted landscapes.
Diverse Levels: Over 100 challenging and engaging levels.
Addictive Gameplay: Easy-to-learn controls but hard-to-master gameplay mechanics.
Captivating Narrative: An immersive storyline woven into the gameplay.
What are the best online games?