Yes That Dress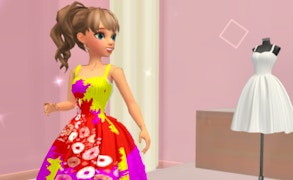 Yes That Dress
Step into the enchanting world of Yes That Dress, an irresistible entry in the realm of Games for Girls. This captivating game will pull you into the glamorous world of fashion, where you become the ultimate stylist for some of the most renowned fashion icons. As a leading designer, your task is not just about donning a dress; it's about creating magic, painting an unforgettable image that garners thousands of thumbs and hearts from social media followers worldwide.
Your customers are no ordinary individuals; they are trendsetters and style influencers who rely on you to make their everyday look a masterpiece, worthy of admiration and likes. Yes That Dress is more than your typical Dress Up Games; it's a blend of creativity, strategy, and style.
This game takes the concept of Fashion Games to unforeseen heights. Here, you're not merely pairing clothes; you're weaving narratives through your creations. The element of choice forces players to think meticulously, ensuring that every accessory complements the ensemble perfectly.
The beauty of Yes That Dress lies in its alluring simplicity. The core gameplay is straightforward but layered with depth that warrants hours invested in pursuing the perfect outfit. Each design session feels rewarding as you watch your creation add sparkle to your client's online presence.
Apart from its inherent charm as a dress-up game, Yes That Dress extends its creative canvas to lovers of Coloring Games. This unique addition allows players to explore their artistic side further by customizing colors for different pieces.
Yes That Dress successfully captures the essence of becoming an extraordinary stylist in today's digital age. Whether it's for casual gamers looking for fun or aspiring designers aiming for inspiration, this game serves as both an entertaining pastime and a creative outlet. It invites you to dress up, stand out and impress! Who knows? You might be the next fashion icon!
What are the best online games?