Xmas Rooftop Battles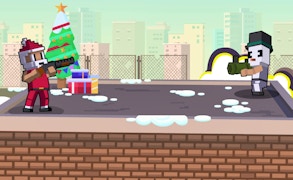 Xmas Rooftop Battles
Step into the wild world of Xmas Rooftop Battles, one of the most thrilling action and battle games that infuses the festive cheer of Christmas into a high-stakes, adrenaline-fueled shootout. Don your Santa cap, equip your guns, and prepare for a heart-pounding gaming experience that truly sets itself apart in the realm of Christmas games.
The premise is straightforward but instantly captivating - you're perched on a rooftop, face-to-face with an adversary in this innovative take on gun games. The objective? To shoot your opponent off the rooftop. But don't let the simplicity fool you; Xmas Rooftop Battles offers layers of strategy and skill that elevates it from a standard shooter to an unforgettable battle extravaganza.
The tension is palpable as you skilfully maneuver around the snow-covered rooftops, your aim steady as a seasoned sniper. The clatter of gunshots mingles with jingle bells echoing in the distance, creating an eerily festive atmosphere that makes this one of the most unique sniper games out there.
Topping off this enthralling package is the option to bring in a friend for some Player Vs. Player action. Compete to see who's got the sharpest shooting skills among you in one of our favorite features - making it one of the best 2 player games.
In conclusion, Xmas Rooftop Battles takes popular game genres and seamlessly weaves them into an explosive Christmas-themed treat. It's not often we see such innovation within gun games or sniper games, let alone 2 player games! So embrace the holiday spirit and let those bullets fly!
What are the best online games?