Xmas Magic Tiles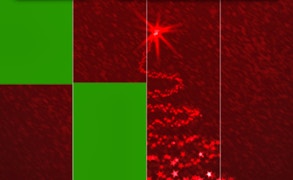 Xmas Magic Tiles
Step into the enchanting world of Xmas Magic Tiles, an addictive swirling vortex of twinkling lights, delightful melodies, and dynamic gameplay. This unforgettable hybrid of music games, piano games, and Christmas games mashes up the genres to deliver a captivating arcade experience that will keep you utterly engrossed.
Crafted with exquisite attention to detail, Xmas Magic Tiles entices players into a magical holiday universe. The festive backdrop sparkles with captivating Christmas motifs while the game's true star – the green tiles– beckon you to tap them without missing a beat. The concept might sound simple, but it's anything but! The swift-paced gameplay requires precision, timing, and a serious ear for music.
The auditory aesthetics of this game are its cornerstone. Using sound as both a mechanic and an immersive layer of ambiance engages players with a unique sensory experience. Xmas Magic Tiles cleverly merges elements of music games and piano games, forging an auditory journey that flows mellifluously from each note and chord.
The visual design is equally impressive – it reflects the gleaming spirit of the holiday season perfectly. Each tap on the green tiles triggers an exciting array of vibrant animations and light effects that add just enough challenge to keep things interesting.
But what truly sets Xmas Magic Tiles apart from other arcade titles is its charming Christmas theme that radiates through every pixel and musical note. From bright candy canes to beautifully adorned trees, the developers have successfully encapsulated the essence of Christmas into a fun-filled music game.
In conclusion, Xmas Magic Tiles is not just another one of those regular arcade games; it's a playfully rhythmic homage to traditional piano games with an exhilarating twist reminiscent in Christmas games. This game is sure to put you in the holiday spirit whilst giving you an exciting challenge!
What are the best online games?