X-Trench Run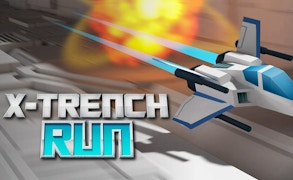 X-Trench Run
Deep dive into the enthralling world of X-Trench Run, an entrant in the arcade genre that pushes the boundaries of flying games and airplane games. This thrilling skill game will have you manning your space fighter, weaving through enemy lines, and hunting down bosses - all while navigating the perilous depths of enemy trenches.
As a star cadet destined to become a galactic hero, you are tasked with daring missions in hostile territory. Stand out features include a maze of menacing laser gates and cunning turrets which require precise maneuvering skills to bypass. With each venture into enemy stronghold, X-Trench Run ensures every round is distinctive and riveting.
Apart from just testing your stellar flying prowess, X-Trench Run introduces electrifying boss fights that could earn you coveted stars and stripes. Each boss fight is unique and will test both your strategic planning abilities and reactionary skills. Earning those stars won't be easy but emerging victorious against these formidable adversaries makes it all worthwhile.
The immersive gameplay is complemented by a highly intuitive control system that's equally seamless on desktops and mobile devices. The game does not relent in its efforts to keep you on the edge with its dreadfully exciting atmosphere, crafted by deep space visuals with increasing difficulty levels that will keep your adrenaline pumping.
X-Trench Run emphatically asserts its presence in the realm of flying games and airplane games. This game's highly repetitive five-star gameplay, exhilarating boss fights, and intuitive controls make it stand out among other skill games. The question now is: are you ready for this space war?
What are the best online games?