Wuggy Adventures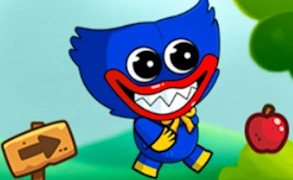 Wuggy Adventures
Taking a nostalgic step back in time, Wuggy Adventures is an innovative mix of monster games, skill games, and escape games, channeling the heart-pounding excitement reminiscent of your favorite mario games.
Casting you as Huggy, a brave and tenacious character, you are tasked with traversing through the perilous landscapes of mysterious islands. The game requires you to leap over a myriad of obstacles, displaying your adept reflexes and honed timing abilities that can only be refined through regular skill games. The high-octane action will have your heart pounding in your chest, as the adrenaline courses through your veins - truly a testament to the game's incredible design.
Fear not, for Wuggy Adventures isn't all run and jump. You'll encounter an array of super evil monsters akin to those found in the best monster games. Each has its unique strengths and weaknesses that will challenge you to devise cunning strategies to overcome them, introducing an element of strategy that is both challenging and rewarding. Moreover, escape game enthusiasts will find plenty to enjoy here as well; you're constantly on the move in this perilous world, seeking an escape route from relentless enemies whilst hunting for hidden treasures.
The final destination? To find Huggy's treasure! Much like the coveted stars in mario games, the anticipation builds up as you inch closer towards this ultimate goal - a testament to the hooking power of this outstanding adventure game.
In conclusion, Wuggy Adventures cleverly combines elements from monster games, skill games, escape games and mario games to offer an engaging gaming experience that will test your dexterity and strategic thinking. Stake your claim on Huggy's treasure by embarking on this thrilling journey through a world filled with danger and discovery!
What are the best online games?