Winter Makeup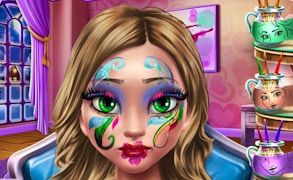 Winter Makeup
Welcome to a shimmering world of glamour and style in Winter Makeup, one of the top-tier games for girls on the market right now. Indulge in a magical journey where fashion meets festivity, making it a must-play for those looking to explore their creative potential in makeup and couture!
In this frozen wonderland, you're not just putting on makeup; you're crafting an entire Christmas aesthetic. Not only does this game stoke the festive spirit, it also acquaints its players with basic beauty techniques, making it one of the best makeup games out there.
The graphics are beautifully done, with attention to every sparkle and shine. You can almost feel the soft brush of powder rouge on your skin or sense the velvety touch of your favourite Christmas-red lipstick. If playing with hues, textures, and styles excites you, Winter Makeup is bound to captivate your senses!
One of the unique features of Winter Makeup is its magical spa treatment offering. The game doesn't just stop at external beauty; it emphasizes on treating your virtual self with care and nurture first – project a inner glow that shines through!
The game rises above generic fashion games, offering not just wardrobe options but full customization potential - from glamorous gowns to snuggly sweaters. And as you earn rewards, you can unlock more clothes and makeup options to craft your showstopping Christmas look.
In conclusion, Winter Makeup draws you in with its festive appeal but keeps you hooked with its emphasis on creativity and style. Whether you're testing out new looks for an upcoming Christmas party or simply passing time by stepping into a virtual spa - this game delivers an unforgettable experience.
Make every day feel like Christmas with Winter Makeup!
What are the best online games?