Winter Looks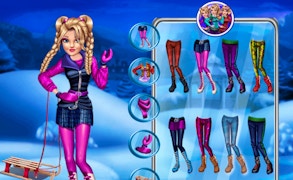 Winter Looks
Welcome one and all to an enchanting winter wonderland adventure with our latest release, Winter Looks. This dazzling game is the perfect addition to our Games for Girls collection. It's a must-have package that seamlessly combines the most engaging elements of fashion games, hairdresser games, dress up games, and even a dash of that cherished festive sparkle with some Christmas games.
Dive into the world of style, glamour, and festive cheer in Winter Looks. It's not just a game—it's your own personal winter fashion atelier where creativity knows no bounds! The highlight of this game is undoubtedly its ability to let you transform our adorable princess into a winter fashion icon. Choose from an endless array of hairstyles in this stellar representation of Hairdresser Games. Whether it's frosty blue curls or chic braided updos, every hairdo brings a new charm.
But that's not all! Embrace your inner designer in this fusion of Fashion Games and Dress Up Games. Deck the princess out in jaw-dropping winter outfits, perfect for various occasions. Whether it be for a Christmas gala or a relaxed evening by the fireside, there are looks to create for everyone and every event.
In conjunction with our beloved Christmas season, Winter Looks also shines as one of the inviting winter-themed Christmas Games. With snowflakes gently falling and holiday tunes playing softly in the background, Winter Looks provides an immersive holiday experience like none other.
In essence, Winter Looks isn't just another addition to your gaming library—it's a ticket to a snowy fashion paradise. Bring your vision to life and celebrate the joyous winter season with us. Don't miss out on this one-of-a-kind thrill where fashion meets fun!
What are the best online games?