Whooo?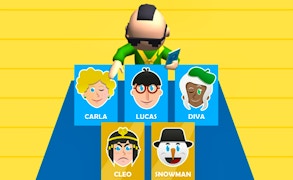 Whooo?
Immerse yourself in the enchanting world of Whooo?, a marvel in the realm of online trivia games. With its unique blend of puzzle-solving and character guessing, this free online game is not just a pastime, it's an adventure. Specifically tailored for the playful spirits of boys but equally enjoyable by everyone, it has swiftly emerged as one of the most addictive and fun games available online.
Dive headfirst into its intricate labyrinth, where each character is a riddle waiting to be unraveled. Guessing the character efficiently with the clues given becomes a thrilling exercise for your mind, making Whooo? one of those rare brain games that entertain you while also sharpening your cognitive abilities. The challenge intensifies as you strive to identify each character in the shortest possible time; a task that demands both swiftness and accuracy.
Apart from its intriguing gameplay, Whooo? holds another delightful surprise – numerous character cards waiting to be unlocked. The quest to unlock these cards adds an extra layer of excitement and makes every game session feel like a treasure hunt. This feature further cements Whooo?'s position among top family games that encourage player engagement and progression.
In conclusion, Whooo? is a brilliant concoction of mystery, strategy, and fun. Whether you're looking for an intriguing puzzle to solve or a lighthearted diversion from routine, this game caters to every mood and preference. It's not just about winning; it's about the thrill of guessing, the joy of discovery, and above all – having fun! So why wait? Embrace the world of Whooo? now and let the guessing begin!
What are the best online games?