White Christmas Party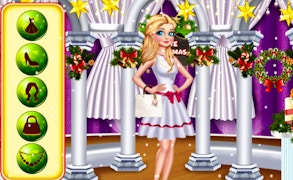 White Christmas Party
Unveil the magic of a sparkling White Christmas Party in the captivating realm of Games for Girls. This delightful intersperse of Dress Up Games, Hairdresser Games, and Fashion Games is a blissful escapade into the vibrant world of style and beauty.
The charming fashionistas, Emma, Jenny, and Andrea are set to celebrate Christmas in a grand style. Their unique choice? A white Christmas themed party. Your task is to transform their home into a serene white Christmas wonderland, complete with a stunning Christmas tree and festive decors that exude an enchanting shimmer.
The journey doesn't stop there! You also have the thrilling task of garbing these stylish icons in dazzling white outfits. To polish their look, you can dabble into an array of makeup options that will emphasize their innate glamour.
White Christmas Party is remarkably engaging; it smartly intertwines elements from various game genres - dress up games, hairdresser games, and fashion games - creating a unique gaming experience that keeps you hooked. It is not just about selecting fashionable clothes or deciding on chic hairstyles; it's an exhilarating exploration into creativity and style.
The characters - Emma, Jenny, and Andrea - are endearing in their own right. Their distinct personalities shine through their preferred fashion choices which keeps the gameplay interesting and adds depth to these protagonists.
In conclusion, if you love Games for Girls, where your creativity gets free reign in the realms of beauty and fashion, then White Christmas Party is your ultimate holiday treat! This fabulous blend of dress-up, hairdressing and fashion gaming provide endless fun while celebrating the merry season with these royals
. Don't miss out on this stylish adventure where you can create your very own winter wonderland!
What are the best online games?