Weightlifting Beauty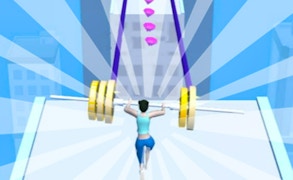 Weightlifting Beauty
Welcome to the high-stakes, high-reward world of Weightlifting Beauty, a genre-bending arcade game that mashes the energetic gameplay of running games, the finesse of gymnastics games, and the chill simplicity of hyper casual games into one thrilling package.
At its core, Weightlifting Beauty is an ingenious fusion of weightlifting and parkour. Tasked with assisting charming girls to lift weights, players will find themselves immersed in a unique blend of skill and strategy that sets this game apart from its competition. This approach isn't just a neat gimmick; it's a total breakthrough that breathes fresh life into both genres creating something far more creative than either on its own.
However, don't be mistaken: despite its playful premise, the game demands concentration and precision. While you guide these weightlifting beauties through their routines, you must also keep an eye out for food power-ups. These delectable boosters can significantly increase your girl's strength and endurance levels - crucial for navigating those tricky parkour sections.
This game shines brightest in its simplicity and easy-to-understand mechanics. Much like Hyper Casual Games' ethos of 'easy to play, hard to master', Weightlifting Beauty ensures each run is straightforward yet always different requiring tactical thinking.
So get ready to embark on this wild ride. Put your dexterity to the test with challenging weight lifting tasks or unleash your adventurous side by taking risky leaps in the parkour sections. With its fascinating blend of running games and gymnastics games mechanics underlined by the crisp delivery synonymous with hyper casual games, Weightlifting Beauty is an absolute must-try in the world of arcade gaming.
In conclusion, if you're seeking a fresh take on classic genres peppered with delightful surprises at every turn- look no further than Weightlifting Beauty- where weightlifting has never been so much fun!
What are the best online games?