Wedding Lily 2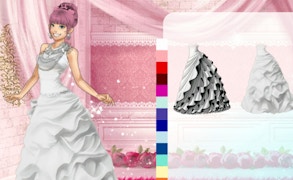 Wedding Lily 2
Get ready for a whirlwind of wedding fashion and fun with Wedding Lily 2, one of the latest and greatest games for girls! If you're into hairdressing games, makeup games and dress up games, prepare to fall head over heels in love with this fantastical wedding extravaganza.
In this game, you don't just play the stylist - you are the fairy godmother of bridal beauty. Wedding Lily is back and ready for her romantic day, yet she needs your stylistic expertise to make her bridal dream complete. How you transform Lily is entirely up to your creativity. With the stroke of your mouse, you can shape the narrative from drab to fab.
Wedding Lily 2 has expanded its inventory with even more mesmerizing bridal items and versatile styles. Now including an exciting new face feature that lets you dictate every minute detail of Lily's facial expression! This isn't a simple Dress-up game; it's an immersion into the world of glamour, fantasy and fashion design.
If you have fancied trying your hand at hairdressing games, now's your chance to shine! With countless hairstyles in every imaginable color, Wedding Lily 2 provides a platform where your inner hairdresser can let loose on style without any real-world mess.
The makeup component of the game takes it all a notch higher. You get to choose the hue of blush, lipstick or eye shadow, thus finishing off Lily's look with that perfect touch of stunning makeup that she needs to turn heads as she walks down the aisle.
In conclusion, Wedding Lily 2 is not just a game—it's an interactive fashion fairytale that offers endless hours of fun. Perfect for those who adore Dress up games, Hairdresser Games, and Makeup Games. This game is sure to keep imaginative minds engaged while allowing creativity to soar!
What are the best online games?