Wedding Dress Up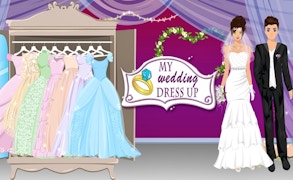 Wedding Dress Up
Calling all future brides and young fashionistas, have you ever dreamed of planning your perfect wedding day? Well, with Wedding Dress Up, those dreams can become a reality. This captivating game is not only one of the most engaging games for girls, but it also teaches you how to style and design your own wedding look.
If you have a flair for fashion and a love for dress up games, then this charming creation is definitely for you. It's more than just a game - it's like stepping into your own virtual bridal boutique. You can choose from an array of beautiful gowns, stunning accessories, and even coordinate your bridesmaids' outfits!
But there's more to this game than just playing dress up; it's also one of the highly engaging hairdresser games. Embrace your inner stylist and decide on your bridal hairstyle that best suits your gown. Whether you're thinking of going with soft curls, a sleek bun, or an elegant updo – the choice is all yours.
Enhance your creative skills with one of the best makeup games. From choosing the right shade of lipstick to applying the perfect amount of blush – every small detail matters when creating a beautiful bridal look.
Besides being a delightful dress-up and makeover game, Wedding Dress Up also offers an exciting peek into the glamorous world of fashion. It encourages the player to experiment with different styles and themes, making it an educational tool disguised as one of those addictive fashion games.
In conclusion, Wedding Dress Up is more than just a game - it's an experience! So if you're someone who loves playing games that involve designing outfits, doing hair and makeup, or simply exploring fashion trends, then this is certainly a 'must-try' for you!
What are the best online games?