Wedding Beauty Makeup Salon - Indian Designer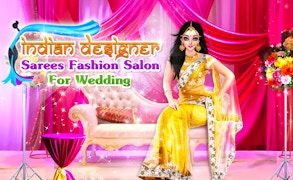 Wedding Beauty Makeup Salon - Indian Designer
Description
Welcome to the Wedding Beauty Makeup Salon - Indian Designer, a magical world where you're the ultimate fashion and beauty expert. Create dazzling looks for princess brides, manage a bustling salon, and explore your fashion designing skills. From elegant wedding dresses to eye-catching makeup styles, you are in control. Demonstrate your creativity and give your princess the perfect makeover for her big day.
How to play
Playing this game is easy yet incredibly fun. Use your mouse to select, drag, and drop the beauty tools and fashion items as you dress up your princess. Pay attention to every detail: from choosing the right hairstyle to mixing and matching various accessories. Every decision influences the final look of your princess bride.
Tips and Tricks
Always start with a clear idea of the look you wish to create. Experiment with different styles until you find the perfect one. Remember, matching accessories play an important role in creating an overall harmonious look.
Features
Diverse Design Options: A wide range of makeup styles, hairstyles, dresses, and accessories to choose from.
Easy Controls: Simple mouse controls make this game suitable even for young children.
Creative Gameplay: Lets players use their imagination and creativity in designing extravagant wedding looks.
Inspirational Themes: Beautiful Indian-inspired wedding designs and styles for added appeal.
What are the best online games?