Waano Bot 2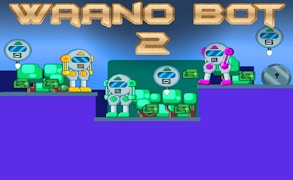 Waano Bot 2
Description
In Waano Bot 2, explore the captivating sci-fi world of this 2D platformer. Your mission is to navigate through challenging terrains and obstacles, collect secret chips, and skillfully dodge enemy bots. The game comprises 8 progressively difficult levels loaded with various threats, including flying bots, bullets, spikes, and massive blades. It's a thrilling sequel to the original "Waano Bot" series that tests your agility and strategy.
How to play
To play Waano Bot 2, you need to use the "WASD" or "Arrow" keys for movement and jumping. Master the art of double jumping by tapping these keys twice in quick succession. Collect all secret chips while avoiding all types of threats and head for the exit door to complete each level.
Tips and Tricks
Timing is crucial in Waano Bot 2. Perfect your double jump ability to overcome tall obstacles and avoid enemies. Keep an eye out for patterns in enemy movements and hazards for successful evasion. Remember that not all secret chips are in plain sight; explore every corner.
Features
A gripping sci-fi theme complemented by compelling 2D graphics.
Challenging platformer gameplay requiring precision and strategy.
Variety of risks including different types of enemy bots, bullets, spikes, and blades.
Progressively challenging gameplay across 8 levels.
Addictive sequel adventure from the acclaimed "Waano Bot" series.
What are the best online games?