Waano Bot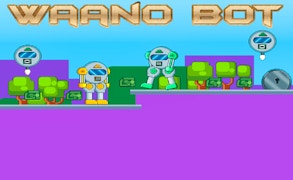 Waano Bot
Description
In Waano Bot, dive into an exciting 2D adventure with a sci-fi twist. Take on the role of a skilled robot programmed to collect secret chips. Traversing through various landscapes, your mission is threatened by adversaries including enemy bots, flying droids and their ammunition. The journey is further complicated by menacing spikes and giant blades. With 8 levels to conquer, each one more challenging than the last, will you reach the Exit door successfully?
How to play
Become proficient in your robot's controls using either "WASD" or the "Arrow" keys for movement. Master the art of the double jump by pressing "W" or "Up" arrow twice to avoid obstacles and foes. Collect all secret chips and make your way to the next level through the Exit door. Survival is key as you navigate this perilous landscape.
Tips and Tricks
Increasing your survival rate means mastering evasion techniques and picking up every chip. Remember, double jumps can be a lifesaver when avoiding bullets or crossing over large blades. Always stay alert for enemy bots - they're not just on ground level but also airborne!
Features
A thrilling 2D platformer with sci-fi elements
8 challenging levels that test your skill and reflexes
A diverse range of obstacles and enemies to overcome
Intuitive control scheme involving double jump mechanic
A strategic gameplay element with chip collection
What are the best online games?