Valentine's Day Shopping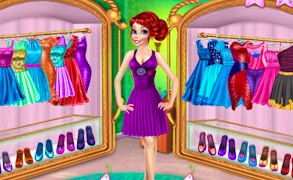 Valentine's Day Shopping
Get ready to submerge yourself into the fantastical and fabulous world of our latest game - Valentine's Day Shopping. A mesmerizing addition to the Games for Girls genre, it's more than just a game - it's a celebration of fashion, creativity and joy.
Focused mainly on fashion games aficionados, Valentine's Day Shopping lets you assist a beautiful princess prepare for the most romantic occasion of the year. The game intricately combines elements of dress-up play, and tops it off with interactive and engaging features akin to popular Hairdresser Games.
The captivating part of this adventure lies in selecting from an expansive array of stunning outfits - each meticulously designed with fantastic detail. After all, what's a princess without her regalia? This fashion extravaganza doesn't stop here. Complementing our illustrious dress up games feature, is an equally enchanting collection of accessories - tiaras to earrings, handbags to shoes, you name it.
A significant segment of Valentine's Day Shopping allows you to transform into a creative hairdresser. With countless hairstyles at your disposal, the power lies in your fingertips to create an enchanting hairstyle for our princess that could give even Rapunzel a run for her money.
In conclusion, Valentine's Day Shopping is not just another run-of-the-mill game but a vibrant and dynamic hub designed specifically for those who truly appreciate the artistry behind fashion games. Engross yourself in this magical journey of style and elegance as our princess preens herself for her prince charming this Valentine's day. Your gaming experience will surely be nothing less than a fairy-tale with Valentine's Day Shopping.
What are the best online games?