Vacation Summer Dress Up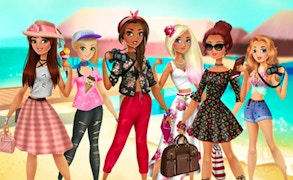 Vacation Summer Dress Up
Welcome to the vibrant and exciting world of Vacation Summer Dress Up, a dynamic entrant in the dress-up-games and fashion-games genres. Specifically crafted for our young and enthusiastic games-for-girls community, this game also incorporates elements of hairdresser-games, ensuring an engaging experience throughout.
In Vacation Summer Dress Up, six high-spirited friends embark on their eagerly-awaited summer vacation. Their journey is filled with fun-filled activities like traveling, sunbathing, swimming, and exploring cool places. This isn't just a holiday; it's a delightful simulation of real-life adventures that manages to capture the essence of summer vacation.
The game stands out for its exceptional emphasis on fashion. These young fashionistas love shopping and dressing up in different styles as they hop from one country to another. The girl with the most stunning outfit back home wins! These aren't just characters; they're trendsetters ready to take over their town with their unique sense of style.
The game boasts an impressive array of 225 items that players can choose from. A Girl's dream wardrobe is packed with eye-catching dresses, stylish hats, chic handbags, and stunning shoes. Players get total freedom to mix and match these items as per their tastes, which adds an extra layer of fun and creativity.
Vacation Summer Dress Up brilliantly combines travel adventures with fashion challenges, making it a standout choice among kids games. Its upbeat theme paired with absorbing gameplay ensures that every young gamer would find it irresistibly charming.
In conclusion, Vacation Summer Dress Up opens up a vibrant world full of fashion-forward gameplay infused with a spirit of adventure. It guarantees an exhilarating gaming experience that would be remembered long after the summer vacation is over.
What are the best online games?