Urban Sniper Multiplayer 2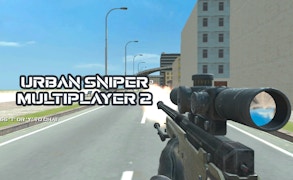 Urban Sniper Multiplayer 2
Description
In Urban Sniper Multiplayer 2, experience the thrill of a fierce sniper battle in an intricately-designed urban landscape. Engage in an exhilarating multiplayer shoot-out, where your sharpshooting skills are put to the ultimate test against other players. Utilize a variety of sniper rifles and strategically traverse through the city to earn the most frags and triumph in this adrenaline-fueled warfare.
How to play
To play Urban Sniper Multiplayer 2, navigate through the city using your keyboard controls and aim with your mouse. Use different sniper rifles to take down your opponents from vantage points. The key to progress in this game is by scoring frags. The player with the highest number of frags wins the game.
Tips and Tricks
Vantage points are crucial in this game. Always move around to avoid being a sitting target and find high ground for a better view of your opponents. Experiment with different rifles to find one that suits your style of play.
Features
Fully detailed and expansive urban map for strategic gameplay.
Multitude of sniper rifles to choose from, each with unique attributes.
Scintillating multiplayer action that tests your shooting precision under pressure.
A ranking system based on frags scored during gameplay.
What are the best online games?
Tags