Tunno Boy 2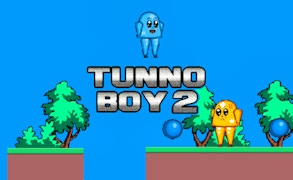 Tunno Boy 2
Description
Immerse yourself in the whimsical world of Tunno Boy 2, a charming 2D platformer that will leave you delighted and challenged in equal measure. Tasked with collecting all the blue magical balls, you must navigate through a labyrinth of challenges including yellow and pink adversaries, flying creatures, and deadly spikes. This captivating sequel turns up the heat with it's increasing difficulty across 8 action-packed levels.
How to play
To control your character, make use of either "WASD" keys or the "Arrow" keys. To make your character hop, press "W" or the "Up" arrow once, but if you want to execute a super useful double jump, simply hit these keys twice! Your mission is to reach the Exit door in each level while carefully avoiding enemies and collecting all blue balls.
Tips and Tricks
To succeed in Tunno Boy 2, pay close attention to enemy patterns. Quick reflexes are key to dodge flying monsters and spikes. Don't forget about the useful double jump ability - it can get you out of tight situations or help you reach those high platforms.
Features
An enchanting 2D world filled with adventure.
A variety of obstacles including colorful enemies and perilous spikes.
A total of eight levels with increasing difficulty challenges your skills.
The ability to double jump adds an extra layer of strategy and fun.
What are the best online games?