Tunnel Boy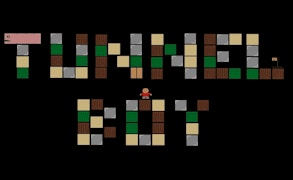 Tunnel Boy
Description
In Tunnel Boy, you'll be put to the test with a diverse array of challenging puzzles that require your strategic thinking and quick reflexes. Your goal is to reach the flag by digging through the earth and using a variety of tools at your disposal. The game dynamics allow you to interact with different elements of nature, adding a unique spin to each level. It's up to you to use your skills efficiently!
How to play
To play Tunnel Boy, simply use your mouse or touchpad to dig and move around the underground world. The tools needed for each level will be available for use. Reach the flag by manipulating objects and interacting with nature's elements, solving puzzles on your way down. Each level requires strategic insight and clever timing, ensuring an engaging gameplay experience.
Tips and Tricks
The key to success in Tunnel Boy is planning ahead. Study each level carefully before starting your dig, as several obstacles lie in wait. Make sure to utilize all your tools effectively; some can even alter the course of nature's elements, providing new paths or blocking off dangerous routes.
Features
Engaging pixel design for that classic gaming experience.
A wide range of tools available for tackling challenging obstacles.
Interactive environments allowing manipulation of nature's elements.
An increasing complexity level ensures a challenging game progression.
What are the best online games?