Tropical Merge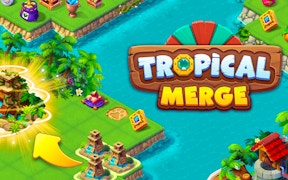 Tropical Merge
Welcome to the thrilling world of Tropical Merge, a unique blend of farm games, match 3 games, and city building games that captivates players by blending mind-boggling puzzles, adventurous expeditions, and a dash of tropical tranquillity. As a confluence of strategy, foresight, and creativity, this game raises the bar in its genre.
Tropical Merge wonderfully integrates the concepts of building games and money games. The mission is to assist the locals in restoring their paradise bay while expanding your tropical farm. The gaming landscape is peppered with enthralling conundrums and extraordinary characters. The challenge lies not just in managing resources but also in solving mysteries that will take you on voyages across various islands.
The joy of merging items to create something new and more valuable is at the heart of this game - an addictive hook that keeps players coming back for more. The gameplay manages to be intuitive yet deep, with layers of strategy to uncover as you progress. Progress in Tropical Merge is pleasingly tangible as every advancement you make aids in the recuperation and development of paradise bay.
Apart from its core mechanics, Tropical Merge's visual aesthetics are worth noting too. With its individually distinctive islands populated by unique characters, lush farms, and beautiful bays - it effectively captures the serene essence of a tropical paradise.
In conclusion, Tropical Merge does an exemplary job combining elements from various genres such as farm games, match 3 games, city building games - all while maintaining a cohesive narrative centered on aid and development. There are clear reasons why this game stands out as an excellent choice for fans of strategy games. If gaming for you is about skillful resource management combined with a bit of adventure & mystery - Tropical Merge awaits!
What are the best online games?