Treasure Hook Pirate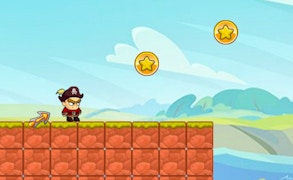 Treasure Hook Pirate
Delve into the thrilling world of Treasure Hook Pirate, a standout title within the realms of pirate games, zombie games, and clicker games. This riveting blend of action and adventure seamlessly fuses together elements of skill games and flying games to serve up a gameplay experience that is as much about strategy as it is about sheer adrenaline.
The premise of Treasure Hook Pirate is as intriguing as it is simple - kill zombies, collect treasures, and navigate your way through flying storms. The very unorthodox juxtapositioning of zombies in pirate territory sets the game apart from other offerings within these tags. It swiftly moves from being just another game in the zombie or pirate genre to an interesting hybrid that keeps you clicking away in utter fascination.
The meticulously designed gaming mechanics make each click count, qualifying it as one of the most engaging clicker games. Slaying zombies is not just about showing off your nimble reflexes; it's a strategic endeavor where each click could mean life or death. The addition of in-game currencies and upgrades allows for a progressive gaming experience customisable to your play style.
If you fancy yourself an ace player when it comes to Skill Games, then you'll appreciate the intricate layers added by the flying dynamics. Not all treasures are on land, so ready yourself to take flight amidst turbulent skies, dodging enemy fire while collecting valuable loot.
From design to gameplay, audio effects to story progression, Treasure Hook Pirate offers an immersive gaming experience. Whether you're a fan of zombie slayers, enjoy navigating through pirate-infested territories or simply love a good clicker game that keeps you on your toes - this action-packed extravaganza checks every box.
A tip for the enthusiastic gamer – this treasure isn't found with a map; instead, it's hidden within your skills honed in real-time gameplay. So grab your kit and set sail for the ultimate adventure – because your journey with Treasure Hook Pirate, where zombie meets pirate awaits!
What are the best online games?