Train Driver Simulator 3D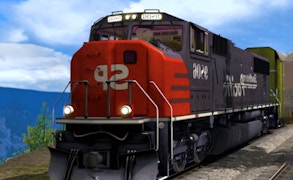 Train Driver Simulator 3D
All aboard! Get ready for a thrilling ride in the world of action simulator games with Train Driver Simulator 3D. Every fan of trains, locomotives, steam engines, rail and all things railroad doesn't want to miss out on this electrifying experience.
Crafted with intricate detail and breathtaking visuals, this game transforms your device into a locomotive control cab. You're no longer just a passenger, but the master of steel beasts, guiding them through urban jungles and serene landscapes. Perfect for those with a fondness for trains and the nostalgia of being a train driver!
The gameplay of Train Driver Simulator 3D stands out in the saturated market of simulator games. A clever blend of simulation and action elements keeps you on your toes. The task isn't just driving; you're responsible for signaling oncoming passenger trains and freight trains. Plus, there's more than just track-thrills: you need to manage speed, throttle and brakes.
The challenge ramps up as the game progresses. The various modes – from easy rides to handling high-speed trains – offer an enthralling experience for beginners and veterans alike. The highly detailed 3D graphics add an extra layer of realism that puts you in the driver's seat.
In closing, Train Driver Simulator 3D offers a stimulating adventure that recreates the complexities and joys of driving a train. This game is the closest you can get to actual train driving without leaving your seat. If you're tired of typical action games or you're looking for something unique within simulator games, give this one a spin. So folks, it's time to blow your horns, signal those oncoming trains and set off on an incredible railroad journey!
What are the best online games?
TAGS