Traigon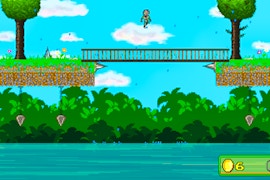 Traigon
Description
In the thrilling pixel world of Traigon, you enter an intense and challenging obstacle course. This game takes you on a riveting journey where you'll have to skillfully navigate across treacherous terrains. Dodge deadly spikes and leap across gaping ravines to reach your destination. The action-packed, platform-based gameplay promises a thrilling experience with each level more challenging than the last.
How to play
Playing Traigon involves using your keyboard controls effectively. Use the right arrow for moving forward, the left arrow for moving backward, and the spacebar for jumping over obstacles. Progress in the game by successfully navigating through each obstacle-rich level, where your skills will be tested at each corner.
Tips and Tricks
Precision is key in Traigon. Time your jumps perfectly to clear wide gaps and avoid spikes. Remember, rushing through may lead to failure, so it's better to proceed with caution. Also, keep practicing; mastery comes with time and patience!
Features
Retro-style Pixel Art: Enjoy exciting gameplay in a nostalgic pixelated world.
Challenging Obstacle Course: Each level presents distinctive challenges requiring strategic navigation.
Crypto Rewards: As a crypto-and-blockchain-game incorporated with NFT elements, players can earn significant rewards.
What are the best online games?